Description
Our spacious Grand Ballroom is designed to fit the needs of every type of event. With 5,000 square feet, its amenities include an elegant cathedral ceiling, four ornate chandeliers and an arched candle lit window. Guests are guaranteed to be enlivened with the Ballroom's direct access to the bar, large wooden dance floor and raised stage area for entertainment. The spacious layout ensures every guest will enjoy an unobstructed view of the events activities.
Venue Details
Area: 50'x100′
Capacity: 350 people
Amenities:
-Elegant and Spacious with Cathedral Ceiling
-Ornate Chandeliers
-Picture Window
-Large Wooden Dance Floor and Raised Stage Area
-Adjoins the Arabian Room, Terrace and Bar Areas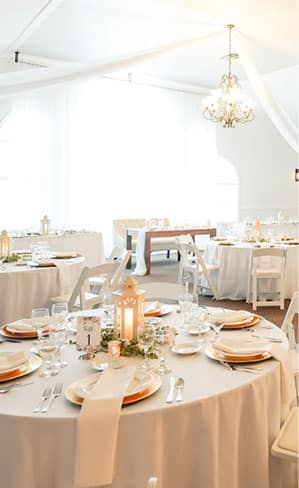 Description
Our Arabian Room is an intimate space located directly off of the main foyer which can seat up to 60 guests. It features a large stone fireplace, decorative built ins with mirrored accents, direct access to the bar and large partition doors that lead into the Grand Ballroom. In addition to being used for smaller gatherings, this space can accompany events being held in the Grand Ballroom allowing guests additional space.
Venue Details
Area: 40'x30′
Capacity: 60 people
Amenities:
Smaller and Intimate with a Large Stone Fireplace, Decorative Mirrored Alcoves and Adjoins the Ballroom and Bar Areas
Description
Captivate your guests with a bar like no other! Garnished with a premium selection of spirits, the drink possibilities are endless. Your guest will delight in all its offerings and never wait in line thanks to its custom peninsula design that can serve guests from all sides. Flat screen TV's and pub tables detail this ideal gathering space.
Description
Exit the Grand Ballroom through our double set of French doors and enjoy the surrounding countryside while experiencing the warmth of an Indiana sunset. Enriched with beautifully landscaped gardens, white strolling fences and grazing horses, the Sunset Terrace is a picturesque space to host your next event!
Description
Our elegant Bridal Suite is the perfect space for a full day of primping and prepping before the walk down the aisle. With ample amounts of seating, mirrors, and storage space the bride and her party can enjoy a relaxing time preparing for the big event all together.